Simon Carless Discusses The Video Game Industry, The Challenges of Starting a Business, and Growing his Newsletter GameDiscoverCo
"Demonstrating you know what you're talking about and that you're helpful allows people to approach you for help."

- Simon Carless, GameDiscoverCo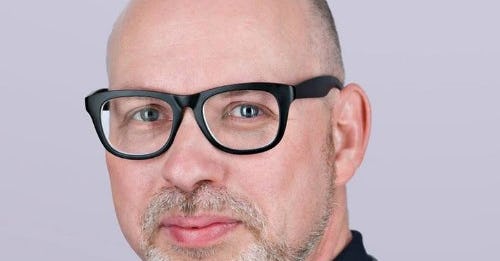 Simon Carless has been working in and around the video game industry for over two decades. He's passionate about games, art, people, and bringing amazing creative endeavors to light via discoverability and curation.
He originally started the GameDiscoverCo newsletter when he was working at Game Developers Conference a couple of years ago. He has had a lot of experience around independent games as the former Chairperson of the Independent Games Festival and he's found the lack of business transparency around 'how people find and buy video games' very interesting.
Here is what Simon shared with us about his deep knowledge in the video game industry:
Question/Answers
What from your experience in the video game industry had you seen to think that people would be excited to learn about how people discover/buy video games?
It's interesting in that Substack/paid newsletters (or even free newsletters with custom content) is NOT a big thing in the video game space the same way it is in the larger tech or startup space. So I somewhat wanted to move this idea forward in games.
A lot of what I'm working with is just super practical things like 'how much money do you make from Steam, net, after refunds and taxes', but also a lot of other interesting content like 'how does TikTok work to expand game dev discovery?', versus Reddit, IMGUR, etc.
I also have quite a package approach to what I put in the newsletter - so the free newsletter is 2x per week, and I have a custom newsletter 1x per week to paid members which includes a lot of data from a special back-end for unreleased games that they also have access to. And then there's an eBook that's only for members, and also a member Discord, etc. So a lot of this is demystifying why games are popular. (It's often because they had a lot of interest before release, it just wasn't completely obvious, so we're exposing that more via data and analysis.)
What are some of the most interesting trends you've seen in video game discovery over the past few years?
A lot of the most interesting trends we're seeing in games is a move to more Games As A Service, with a lot more post-launch updates and DLC. A game can be making more money in Year 5 of release than Year 1.(But I don't really play in the free-to-play space - all of my advice is for PC and console game creators.)
Which indie games have pulled off the most unique launches lately?
There's been some really obvious breakthrough stuff like Among Us which had a super great streamer-friendly co-op concept obviously! Some things that I have been surprised have done so well have included Powerwash Simulator which just had a really good novelty concept - people love washing things! And there's just some really intelligent genre mashups like Tribes Of Midgard which have online co-op but also combine multiple styles of game very well.
Interesting. Did PowerWash or Tribes have large pre-launch communities?
Tribes, yes. PowerWash less so, it's been a streamer hit after launch actually!
Have you written any pieces for your newsletter that completely exceeded your expectations in terms of performance?
I crosspost all my newsletters to Game Developer (where I used to be publisher/EIC) and a small subsection of them to GamesIndustry.biz (another game biz site), so sometimes those increase reach quite a bit separately of the newsletter.
To be honest, I do many less 'hot trends' newsletters than a lot of other Substacks out there. But my coverage of the Epic/Apple lawsuit ended up doing pretty well, especially because I did a lot of court document scouring and extracted interesting things.
Actually at one point I managed to get some of the Epic/Apple documents early because of a court posting error and people were offering me money in Twitter DMs to hand them over. 
I'm interested to learn more about how you think of the marketing funnel for your agency! What role does your newsletter play in it? Is the newsletter the top of the funnel way to get people in the door?
Good question! So when I originally launched GameDiscoverCo as a company a few months ago it was pretty much as 'I want to make money with a paid newsletter, and I guess if anyone wants me to consult with them it's a bonus'. (As a one man company.) So I didn't proactively market that, but I just put up a fairly open-ended page indicating I could be approached.
But actually, yes, because I demonstrate a lot of expertise in the space, I have multiple clients already, some regular, and consulting does better than the newsletter currently. It definitely exceeded my expectations. Either way, demonstrating you know what you're talking about and that you're helpful allows people to approach you for help.
(But the newsletter has also exceeded my expectations, probably because I'm working in a fairly unique/specific space. Most analysis like this in the video game space is done for free-to-play games, where you have a lot of full-time economy/monetization designers. I'm working in the more 'creative' space and trying to get people to think more about data and outcomes vs. just being passionate game creators and hoping for a hit.)
What strategies do you use to grow your newsletter beyond crossposting? Which have been more (or least) successful for you?
A lot of the time, I think I'm getting word of mouth referrals, but also I rank on Google (the web version of the newsletter, or a crosspost) for a few very specific things that game devs look for.
I also have Reddit or YouTube traffic spikes from time to time but they aren't planted by me so much as people just using existing newsletters/data.
Was the google ranking intentional or fortunate coincidence?
Some of it is because I did canonical surveys on things related to Steam that other people hadn't, for example 'how many sales might a game have if it has X amount of reviews on Steam?'
So using reader surveys to get data that nobody else has is definitely a traffic driver. (And also gets helpful info for everyone!)
Would you be open to sharing your newsletter size?
I'm currently #12 on the Substack Technology rankings for paid revenue. Looks to me like the Top 8 or so are doing >$100k a year gross, i'm not there yet, but that's fine, still exceeding my expectations.
What does a day in your life look like?
Mondays, Wednesdays, and Fridays I have a newsletter to put out, so I try to have a LOT of links and info ready to go. I always run with one lead story and then often a secondary story, and then a really big link compendium. (It's definitely more of a 'compiling info' newsletter than many of the others larger Substack newsletters.)
So I'm often grabbing links into a scratchpad at random times every day, and then I sort them all to write the newsletter, which takes hopefully 3 hours start to finish.
And then the rest of the time I'm consulting with various clients on some of the same things I'm writing about in the newsletter. I probably have 3-5 actual meetings per week (all with specific clients) and I'm doing a fair amount of writing/analysis.
I'm also working on the GameDiscoverCo Hype back end with our coder (who is funded by a client who wants some exclusive data, we have a nice split there where he gets exclusive stuff and I can still give much of the rest of it to paid newsletter subscribers.)
What other newsletters/writers inspire you?
I'm a big fan of Garbage Day because I'm a 'very online' person. So I guess Ryan's level of interpreting very complex social things online (also stupid stuff) is a newsletter highlight for me.
In the video game space there's a less well known newsletter called Superjoost Playlist which is by the founder of a notable research company in the space and it's really good, just fairly irregular.
I also like That Thing They Did which is a weird pop culture newsletter that generally interviews actors about their ENTIRE history - heh, I guess I'm not really a tech/opinion Substack reader, more like a pop culture one.
How do you actively try to grow your newsletter?
Regarding actively growing the newsletter, I ultimately have a bit of a limited audience (people making or publisher premium PC/console video games) but as well as worth of mouth and crossposting to major websites (who will take the content cos it's free and decent quality!), i do post on LinkedIn (which I generally hate, but people def hang out there) and obviously Twitter (where I have a decent following, although not great interaction volume.)
BTW I used to have a second Substack - which I briefly tried to monetize early in the pandemic and then closed. I do think 'hook' matters on newsletters - like, what are you providing which is vital and different, or are you just breaking through with force of personality alone? And the Video Game Deep Cuts links newsletter was great, but it didn't really showcase any of my practical insights. And that's what people sign up for.
So the GameDiscoverCo newsletter is naturally growing a lot faster. Because it's info people NEED to know.
Which parts of getting your business off the ground did you find most challenging?
Less the newsletter, actually, more the 'what should people pay me for as a consultant after reading the newsletter, how much should I charge, and where should I plug into their organization?' Because 'discovery' isn't really marketing OR content. And working out how much to charge, oi. I'm fairly happy with where I got to, but it's complex and evolving.
Re: 'how did I work out what my services were, how much to charge, etc', there was one consultant in the video game space (Jason Della Rocca) who I talked it through with. But mainly it's a question of - I want to be fair to clients and one thing I decided to do which helped was set a 10-hour minimum for one-off consultations. And then if there are small devs who want my help and it won't get up to that level, I may just exchange some advice emails for free. That helped me not get caught up with a lot of overly small paid transactions.
Are there any games today that have really engaged communities, but haven't yet achieved commercial success?
Yes, there are a lot of those! Something we talk about a lot in games is 'hook'. Here's a good video about it from Ryan Clark: https://www.youtube.com/watch?v=NOb-PdYwkwk
Basically, you really need to think about reach as well as quality. Nowadays you can make a great game and only have 1,000 people buy it. (Which may not work for you monetarily.)
Who are the writers inside the gaming industry and out whose work you admire?
I partially answered this above by linking to some other Substacks I like. Otherwise in the video game space, I really like Axios' new video game newsletter actually - run by Stephen Totilo, who was EIC of Kotaku - with Megan Farokhmanesh.
Can you talk a bit about your process for deciding what trends to write about ... and your end-to-end research process?
One thing I didn't talk about much yet - I was the original investor and advisor in an indie game publisher called No More Robots (whose head, Mike, has just been Tweeting Nickelback memes today about grossing $12 million in the last year, haha) so I get to see a lot of behind the scenes stuff of console back-ends, revenues, trends, etc.
So quite a bit of it comes from that. Just practical issues/problems that I've seen from lurking behind the scenes. But also we have quite an active GameDiscoverCo Discord now for paid members and can get ideas from that.
And in general I have a very large dummy document with a list of both links but also ideas that I try to line up ahead of time. I particularly try to get transparent third-party data from third parties.
How much does attracting certain clients play into your decision on the topics you choose to explore?
I don't really cover topics in particular looking for consulting clients, but I have a fairly narrow set of folks who are interested in that - generally mid-sized publishers who need to think very hard about which games they sign or other larger strategic issues around discovery. And so a lot of the newsletter is pertinent to them.
The good thing about running the newsletter as I do is that I can be as transparent as possible with data handed to me from 'independent operators' who don't mind showing EVERYTHING behind the scenes, and that's really cool to those people who work in larger companies and aren't allowed to share.
How do you think the pandemic has impacted the gaming industry? How has it impacted gaming media such as yourself?
At least for the mobile game market (which I cover less), there's been a lot of stats saying that the market went up significantly during lockdowns. That's also true, I suspect, for larger Games As A Service titles. For regular independent games on PC/console, there was a marginal increase during lockdown but nothing gigantic. (That I saw.) Maybe just because a lot of regular folks' playtime is in F2P and GaaS games.
As for how it impacted me, my previous job until just after the pandemic hit was actually running events like Game Developers Conference and Black Hat, and so my beliefs on how COVID might affect the international events industry was one of the reasons I left my old job and started GameDiscoverCo.
(Don't get me wrong, I think physical events are still important and can be profitable, it's just gonna be a rough market to be in for a while, safety and prediction-wise.)