Scott Monty Discusses Podcasting, Creating Content, and Growing his Newsletter Timeless & Timely
The greatest challenge is leaders not thinking they need help. It's okay to be vulnerable and have weaknesses -- only by acknowledging them can we grow.

- Scott Monty, Timeless & Timely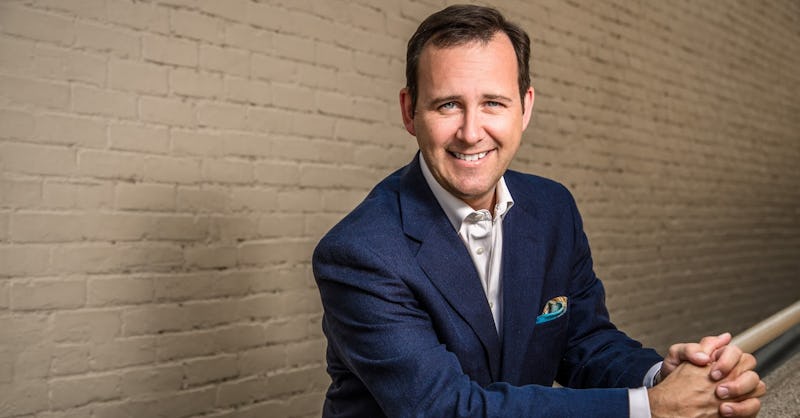 Scott Monty is a strategic communications and leadership advisor, author of the Timeless & Timely newsletter and host of the Timeless Leadership podcast.
He had been writing a regular newsletter for about 10 years. Over time, he realized we were seeing the same things and making the same mistakes, so he thought he'd link history to the present to provide more context for human nature. Thus, Timeless & Timely was born.
Continue reading for insights on growing a newsletter and podcast at the same time:
Question/Answers
What inspired you to create the Timeless & Timely newsletter and Timeless Leadership podcast?
I've been writing a regular newsletter for about 10 years. Originally a curated newsletter with 8 different sections, it was called This Week in Social Media, then This Week in Digital, then The Full Monty. Over time, I realized we were seeing the same things and making the same mistakes, so I thought I'd link history to the present to provide more context for human nature. Thus, Timeless & Timely was born.
What are the biggest challenges you've faced while building your advisory business? Were they different from what you expected to encounter when you started it?
The greatest challenge is leaders not thinking they need help. It's okay to be vulnerable and have weaknesses-- only by acknowledging them can we grow. The best engagements I have are from people who already trust me.
What were you hoping to accomplish when you launched your podcast and have your goals changed at all?
I wanted to highlight inspiring people who write about and live the virtues that I think are essential in leaders. While they all have multiple leadership qualities, I thought it would be interesting to look at a single virtue or principle in each episode, to focus on why it's so important.
Do you see your newsletter and podcast as channels to acquire new customers?
The newsletter and podcast are potential channels for new customer acquisition, but that's not their primary purpose; I write because I love writing(and I'll likely repurpose these into a book at some point), and I host a show because I enjoy podcasting(I've had one or more shows since 2007) and speaking with other leaders. If I get consulting business or requests to speak as a result of that content, that's just gravy.
Can you share more of your strategies/the journey you take someone on to go from first discovering your work to becoming a client?
Really, there's not much to the journey, other than a welcome email, suggestions for some past editions worth exploring, and engagement as they read week after week. Many people choose to email me rather than submit public replies; I try to respond to every single one. Over time, that builds trust.
Congratulations on the 10-year run of your newsletter! Over that time, what strategies have (and have not) worked for you in terms of growing your readership?
I found that when my passion wasn't there, people knew. What initially began as a round-up exercise to keep my global team at Ford informed of new or newsworthy developments turned into a project that served a broader community (circa 2013). But the time it took to assemble, combined with the broadening scope of the content, made it too onerous. And I was just going through the motions.
I had an honest conversation with my readers -- and I've always found that the more personal I make it, the more engagement I see -- and changed focus. In the process I lost a few people, but I gained many more. As with most newsletter creators, I lose some readers every week; I also gain readers every week. As long as it's net positive and I'm enjoying the writing, I know it's working.
How do you balance time between your newsletter and podcast?
I devote the majority of my time to my newsletter. Each week, I pick a theme (I generally have about 50 or so I jot down in a OneNote notebook). As I find news stories or items of historical import related to that theme, I file them in the appropriate page. When I feel like I've got something that maps to what's been happening in the news, I'll develop an essay and publish for the public on Wednesday, followed by a related essay and all of the links (as well as a recommended book and podcast) on Friday for paid subscribers. When the podcast is running, I match a leader to a topic and that forces that to be the theme of the week for the newsletter.
For example, the week of June 5, my guest was Ted Wright from Fizz WOMM, and the topic was Patience.
The first essay was called "It's About Time" and the second was "On the Shortness of Life"
All three were tied together. Kind of an editorial cadence for the week.
If you could only do one (newsletter vs podcast) which would you choose?
I'd chose the newsletter, every time. I know people say that writing or longform is passé, but it's richer in SEO and it gives people a way to quickly scan what you're talking about that a podcast-- absent a transcript-- does not do.
How do you gather feedback for your newsletter pieces and podcast episodes?
I ask people to email me or invite comments on each. Some of it may be anecdotal, but often times, they make great points or help me look at something in a way that I hadn't before.
Do you create your content alone or do you have a team that supports you? If the latter, how do you delegate work across your team?
As the great Pee Wee Herman once said, "I'm a loner, Dottie. A rebel." I do receive recommendations for guests, books to read, and articles to check out, but all of the writing and production is my own, for two reasons:
I'm kind of a control freak and have an ear for what I want (on the podcast)
The writing is very personal; it's based on my experiences and my own library and reading habits.
Who are the leaders from history or literature that get more respect today than you think they are deserving of? and vice versa, what leaders are under-respected?
I'll share it to you in terms of a true story from 1999: I was at a New Year's Eve gala in Boston, celebrating the turn of the Millennium (you remember: when we thought planes might fall out of the sky or computer networks would suddenly freeze up), and I was seated next to Bradford Washburn. 
Dr. Washburn was a founder of the Boston Museum of Science and a highly decorated explorer. We were talking about fearless leadership, particularly in the realm of explorers, and since I had just read an account of Captain Robert Falcon Scott. Scott's expedition to the South Pole was tragic: Norwegian explorer Roald Amundsen beat him by 11 days; Scott and his team of 4 perished on the 800 mile march back, dying only a few miles from the depot.
Washburn listened intently, but said the greater hero of early Antarctic explorers was Ernest Shackleton. This was before the explosion of Shackleton books, documentaries, and films. But it led me to one who was then an under-appreciated hero.
I wrote about it here, highlighting the difference between determination and resilience.
Also, the more I learn about Abraham Lincoln and the times in which he lived, the more respect I have for him -- different from the deferential respect we typically give our 16th president. He was wise, courageous, and intelligent, yet filled with self-doubt, anxiety and reflection.