The six most essential research tools for content marketers (free and paid)
All the tools you need to be the world's greatest content marketer are out there. And that's the problem. They're out there, and there are lots of them. Even the simple matter of searching "best content marketing research tools" will confront you with a barrage of ads insisting that platform x is the "best alternative to Super Awesome Research Tool 3.0". It can be an exhausting experience.
Even when information overload isn't a factor, you can still be limited by cost and need when you're looking for research tools. But when it comes to research tools for content marketers, there's something out there to suit every research need and budgetary requirement.
The best free research tools for content marketers
'Free' doesn't have to mean 'basic' — the best free research tools are powerful, versatile, and usable. That's why it pays to be familiar with the best free tools that are out there. Even if you're rolling with a higher budget and can afford the best of the paid options, several of these free offerings can provide a great balance to your research stack.
So, if you're trying to bootstrap your way towards topical authority, these are the best free research tools to get you started.
Keywords Everywhere
Forget that pricey subscription tool with its complex UX and bags of data you're not going to look at. You can build up a nuanced, usable portrait of search intent with just a single browser add-on like Keywords Everywhere.
Keywords Everywhere is compatible with Chrome or Firefox. It shows the SEO difficulty, CPC, and competition data for a recently searched keyword on the right-hand side of your search tab. This gives you the immediate ability to assess whether a given keyword is accessible and worth your time to build a piece of content around.

Keywords Everywhere does offer a paid service, but most of its most important features are available on the freemium plan.
Pros
Keywords Everywhere is intuitive and easy to use. It can be downloaded and deployed in just two clicks and immediately displays key SEO data every time you search. It also displays search trend data and provides a list of related keywords and long-tail keywords for every search term.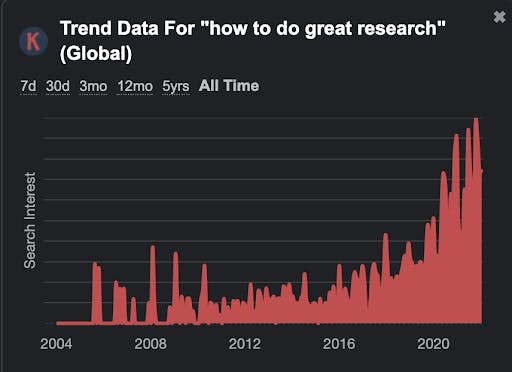 The free version of Keywords Everywhere also provides difficulty metrics with detailed breakdowns. This can give you a bird's-eye view of the open page rank for existing content, meta-descriptions, URLs, and other useful metrics.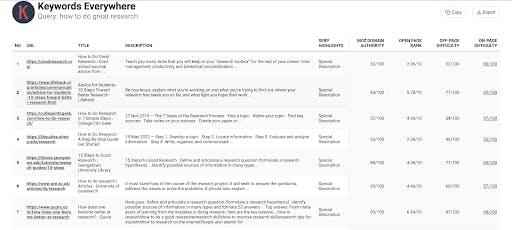 Cons
Keywords Everywhere isn't perfect. It can tell you a lot about a keyword, just not the thing you most want to know: .search volume. No historical search volume data is available unless you subscribe to the service's paid option or buy credits on an as-needed basis.
As you might expect from a free research tool, Keywords Everywhere is also not ideal for deep diving. Figuring out what your competitors are writing and ranking for is a key part of content marketing research, but Keywords Everywhere doesn't allow you to analyze competitor sites in detail. You also can't use it for auditing the health of your own site.
Keywords Everywhere is not compatible with all browsers. While Chrome and Firefox account for about 70% of all browser market share, users who prefer Safari and Edge will miss out.
Ubersuggest
Ubersuggest is one of the best SEO research tools out there when it comes to combining free access with analytical depth. It's a comprehensive SEO analytics tool offered by Neil Patel. It's recently undergone renovations and huge improvements, becoming a firm favorite of content marketers everywhere.
Simply type in the keyword you're researching, and the platform will serve you a pallet of vital statistics on it. You can gain even more insight by taking the time to make a free account).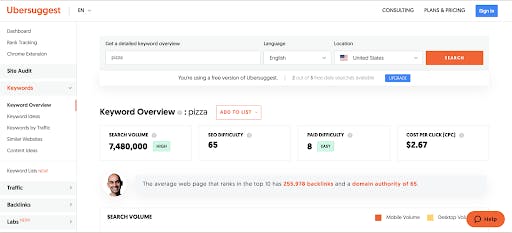 Pros
Ubersuggest is amazingly elegant and comprehensive for a free research tool. It gives you the skinny on the keyword you entered, including volume, difficulty, paid difficulty, and CPC. It also returns arrays of related keywords with those same statistics attached.
The platform also finds high-quality questions for natural language search. Natural language search is a field of growing interest for content marketers, but taking advantage of this requires knowledge of what questions would-be users are actually asking. Ubersuggest provides for this.
Unlike most free content marketing research tools, Ubersuggest is fit for deep--dives. It provides a lot of additional views (e.g., traffic, backlinks) that will be useful for any content marketing professional. If you're really strapped for ideas for new content, it even has a Content Ideas tab.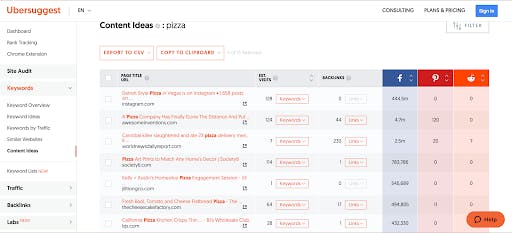 Cons
The platform's SEO audit feature is frustratingly incomplete. It provides key read-outs about site health but offers few tips about how to fix the issues. This may not pose a problem if your content marketing research is purely article-driven but is a drawback if you're also looking to optimize your site's SEO as a whole.
Answer the Public
There's no content research tool quite like going out and asking members of the public what they think. When you want to do this at scale from the comfort of your home office, AnswerThePublic is the tool that you need. It allows you to see what questions members of the public are asking around specific keywords.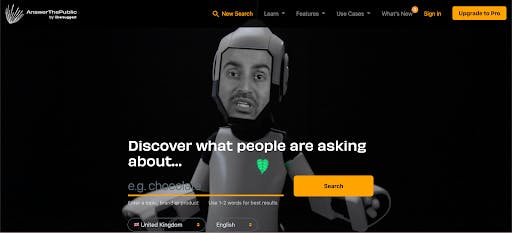 Pros
The best part of AnswerThePublic is that it provides a glut of instant content ideas. What's more, you know that you're going to be answering questions that really matter to the reading public. AnswerThePublic is also superb for identifying featured snippet opportunities since you're targeting known and frequently asked questions.
AnswerThePublic has a fabulous UX — sleek, usable, and full of personality. It's also easy to download search results in a clear, legible CSV file.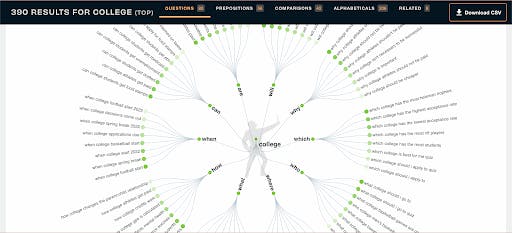 Cons
As with some other content marketing research tools, a lot of AnswerThePublic's drawbacks can be found at the free-paid divide. It offers relatively few free credits in its non-paid tier, meaning that it's a tool you won't be using dozens of times when spinning off ideations at 2 am.
The best paid research tools for content marketers
Content marketing can be the life of kings if you're working with a budget — there are more high-quality paid content research tools out there than you can shake a stick at.
But value is all-important, even if your budget is the highest of the high. These tools justify every penny spent on them and can really send your content over the top.
Ahrefs
There is hardly a single content marketer who has ever used Ahrefs and wouldn't sing its praises. It's a content marketer's best friend, providing a window into every aspect of your site's SEO performance. It provides a comprehensive service for analyzing a website's overall SEO health, from its link profile to its traffic performance and individual keyword rankings. It's hard to imagine any content marketing research toolset that wouldn't improve with the addition of Ahrefs.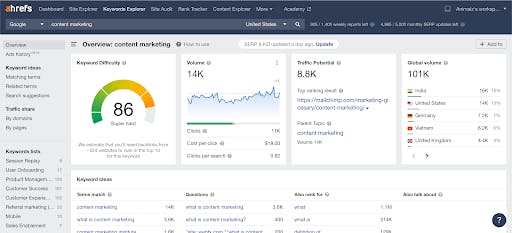 Pros:
Ahrefs gives you a comprehensive view of your entire site's SEO profile. It shows you a full list of the keywords your site ranks for. If you're looking to build topical authority, you can branch out from areas where you're already strong. If there are articles that are lagging behind in their organic traffic volume, you can plan to refresh them.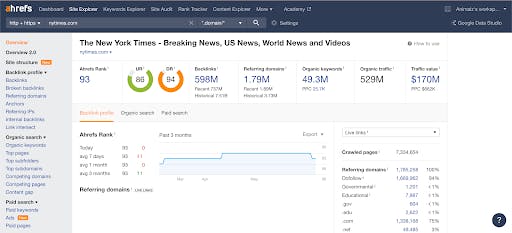 Ahrefs' Content Gap feature shows you keywords your competitors are ranking for that you aren't. This equates to instant ideation. Stuck for content ideas, but seeing that your nearest competitor ranks for three keywords you don't have on your site? That's the beginning of a new and highly competitive content strategy right there.
The keyword tracker on Ahrefs is highly comprehensive. Along with providing bags of related keywords, its "'Question'" sub-feature is great for when you're looking to optimize for natural language search. Like Ubersuggest, Ahrefs can show you what questions your would-be users are really asking.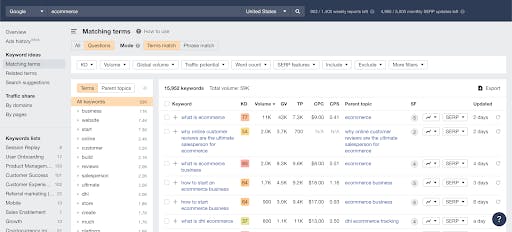 Ahrefs has a very simple, streamlined interface considering the depth and complexity of information it provides. New users can quickly understand the basics, and seasoned content pros will have plenty of deep material to occupy them.
Cons:
Ahrefs is a superb tool for tracking the performance of your existing content and determining when it's time for a refresh. However, several tracking features update slowly, including rank tracking and backlinks. Also, its organic traffic estimates are speculative and may differ from what you see on your site's Google Analytics account.
More saliently for the content marketer in need of good research leads, Ahrefs' comprehensiveness can also be a little bit of a drawback. Related keywords are not filtered for usability. You'll find spam keywords and misspelled variations in each related keywords list, which makes wading through the list to find usable keywords a bit of a slog.
Clearscope
Clearscope helps when you're ready to begin drafting articles. It's a content optimization platform that checks out the competition for your keyword. It then surfaces information about those articles, from readability to average length. It also includes lists of related keywords to your main topic, including keywords that appear in key article headings.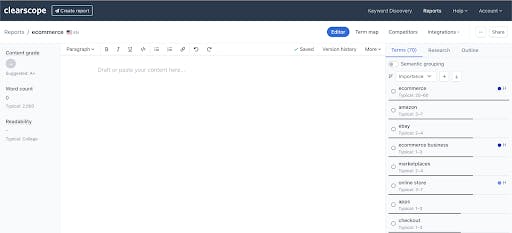 Checking out the competition can fundamentally inform the decisions you make when structuring your article and building a list of related keywords to include. For example, in the above screenshot, we see that articles about 'ecommerce' typically include headings that feature the words 'online store', 'ecommerce business', and, of course, 'ecommerce' itself. A savvy content marketer will look to include these headings while uncovering new research and insights that make the sections under those headings more usable and interesting to readers.
Pros:
Perhaps the best thing about Clearscope is that it saves you a mountain of time on content research. Its "Competitors" tab shows you the best of the best when it comes to competing content, so you can review the competition and plan your work accordingly.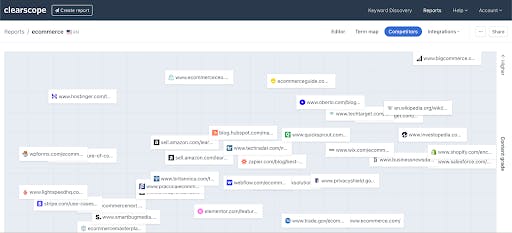 It also provides research insights into writing style and article length. If the competition writes 1,500 words on average, you can attract more views by pushing to 2,000. If their readability scores are high, you can bring the level down to make your article more accessible. Google will notice, and you'll rank higher!
Clearscope also measures your article's overall optimization level, factoring in related keywords, readability, and length. It then wraps them up in a nice graded score. This process is dynamic, so you can see your article's score improve as you write in Clearscope.
Cons:
Unfortunately, Clearscope's graded scores are only advisory. If you write an article graded A++ by Clearscope, it's more likely to rocket up the rankings than other articles, but it's not guaranteed.
You may find this lack of guarantee something of a dealbreaker, as Clearscope is very expensive. Even its basic, non-enterprise plan is $350/month.
Heyday
The other research tools in this article help put your content strategy into perspective from an SEO point of view. But that's hardly the only kind of research you need to do to write great content. You also need research tools that are going to help you build the knowledge and understanding that will fuel your writing.
That's where Heyday comes in.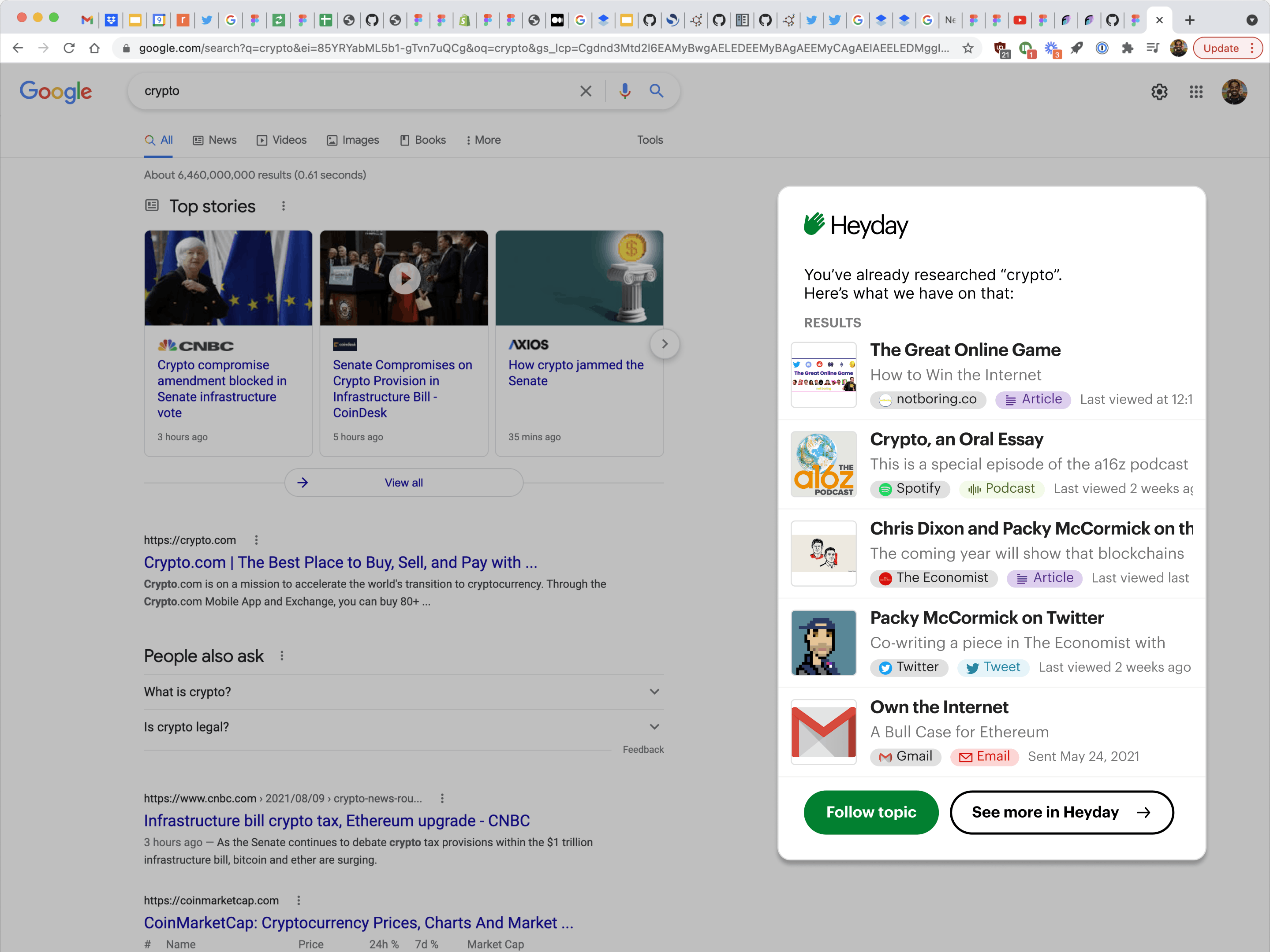 Heyday is a browser extension that helps you keep track of high-quality content you come across when you're building up info ahead of a content research phase. It resurfaces content alongside Google search results through AI, overlays it on articles, and curates it into a self-filling knowledge base.
The best part of Heyday from a content marketer's perspective is that it automatically saves research from the web. Then, Heyday resurfaces the right content when you need it most.
It is highly integrative, automatically pulling in content from desktop, iOS, and web apps that you use. Heyday's founders also offer 1:1 support in Slack.
Unfortunately, Heyday does not currently offer a freemium option. 
'The tools that make the marketer'
The best approach to great content marketing research is not the best research tool but the right combination of research tools. Ahrefs gives you the best coverage, but having Keywords Everywhere active at the same time provides a flourish of inspiration where you least expect it. You can scan the competition through Clearscope, but it might be that article you read last week that leads you to a difference-making angle or narrative — thank you Heyday!
Whatever tools you go for, never forget — great content is a marriage of technical SEO rigor and deeply informed storytelling. Select your tools to get the best of both!
Ready to take your research to the next level?
Add Heyday to your browser.