Let's Be Smarter
Today I'm excited to announce that we've raised a $6.5M Seed led by Kevin Thau at Spark Capital with participation from Abstract Ventures, Correlation Ventures, Ride Ventures, Spacecadet Ventures, Firsthand Ventures, and some amazing angels.
A little over a year ago, my co-founder Sam and I made the decision to shut down our previous startup. All we had to show after years of hard work was an undifferentiated knowledge management app that tens of thousands of people tried, but few stuck with. But in the process of building it, we stumbled upon an insight that inspired Heyday.
After working closely with hundreds of beta customers over the past sixteen months, we've learned that people who do a lot of research feel underserved by today's popular knowledge management tools. They want to feel smarter and better organized, without the ongoing mental labor that's required to keep these stools in sync with all that they're learning.
As someone who has ADHD, I've felt this same way for most of my career. And as a Machine Learning engineer, I'm drawn to using automation to free people up from repetitive, uncreative tasks.
Meet Heyday
Heyday is an AI-powered research assistant that helps you retain more of what you learn by resurfacing content you forgot about.
Through enhanced search results, article overlays, and a knowledge base that fills itself, we help folks who do a lot of research — writers, investors, entrepreneurs, and academic researchers - feel smarter with no extra effort.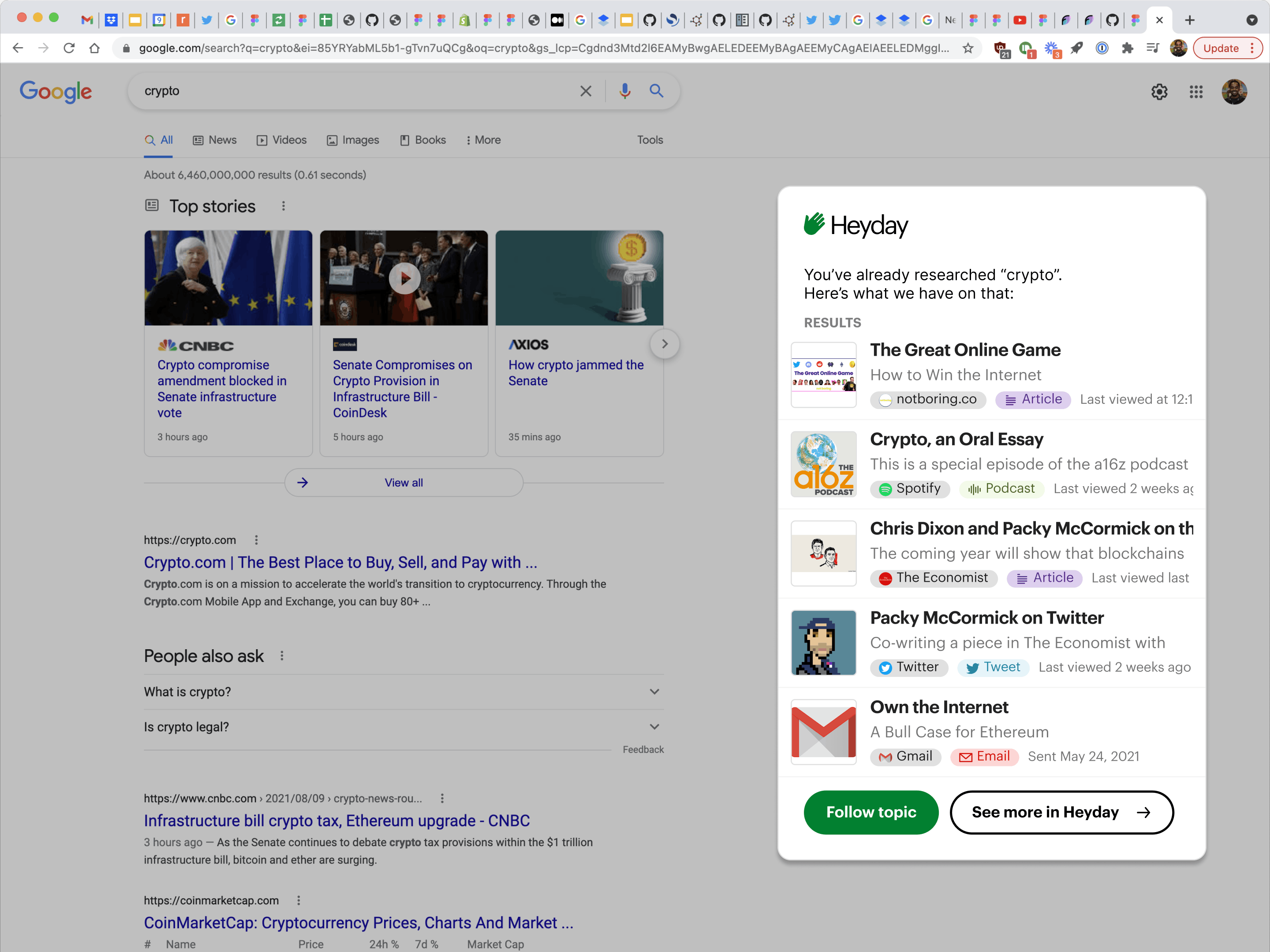 While it's a blast to help individuals, I can't wait to give learning superpowers to teams too.
Our customers are excited about us building a "hivemind" experience that unlocks ambient learning within trusted groups of people. By pooling and automatically resurfacing content amongst teammates, Heyday can accelerate research processes, prevent duplicative work, and makes teams smarter.
Up Next
We're thankful for everyone who has shared feedback with us to shape Heyday, and we're working hard to make sure the product lives up to its potential.
Here are a few of the things we're working on:
Improving AI models that power our topic suggestions
Adding a Notion integration to resurface your pages
Creating a tab management experience that automatically curates your research topics
Doing research of our own into the desired collaborative research experience
If you do a lot of research online, we think Heyday can help you feel smarter with no extra effort. We'd love for you to see for yourself.
-Samiur Rahman
Co-founder and CEO, Heyday
👋🏾