Research Tips for...Content Marketers
The best content gives little to no indication of just how much careful researching, planning, and fact-checking went into creating it. In fact, being a great researcher is a prerequisite for being a great content marketer. And if you want to write content that stands out from the crowd, you can't fall back on the same-old-same-old research practices.
Researching for content marketing is a multi-faceted thing. First off, you need strong technical research to guide you toward what to write. Once you have your subject in hand, you then need additional research to help you build the article into something informative and satisfying.
This kind of end-to-end research process requires different approaches at different stages. As a content marketer, you have to keep tabs on a number of different sets of best practices to get it right. By getting them all right, you can create content that's not only insightful and readable but primed for excellent ranking performance too.
Research tips for choosing your subject
A content marketer can't just pluck a subject out of the air — the article you're writing has to serve the needs of your client and their marketing strategy. Choosing a topic angle and a keyword is vital to building a foundation for an article, and that requires research.
This 'pre-writing' period is the most technical of the three research phases involved in creating content marketing. Getting it right will give your article a great SEO foundation, priming it for solid long-term ranking performance.
Make use of Ahrefs
Ahrefs is a paid SEO analysis tool that allows you to analyze domains, pages, and individual keywords for their SEO properties. It's an enormously valuable tool for a content marketer.
You can use Ahrefs to assess the vital statistics of any keyword, including search volume and difficulty. You can also use it to review the site you're writing for and determine the keywords for which they already rank strongly.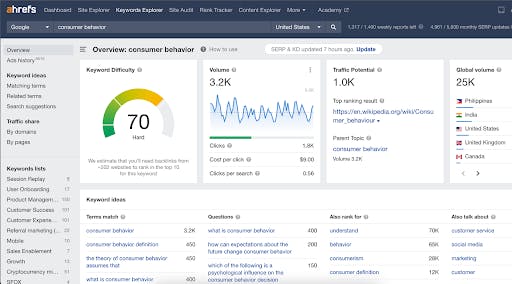 Your client may already have provided you with topic areas or even precise keywords they'd like you to target. If not, one of Ahrefs' most useful features is the Content Gap. Running a Content Gap allows you to see what keywords your client's competitors rank for that your client themselves do not. It's an instant source of great keyword ideas.
Get the best out of Clearscope
Clearscope is similarly indispensable when it comes to giving your article the best possible SEO foundation. Clearscope is a content optimization platform that allows you to tailor individual articles for improved ranking performance.

When you've found your keyword, plug it into Clearscope's "Create Report" feature. This provides you with a list of secondary keywords relevant to your primary keyword, based on the current top-ranking content (as below).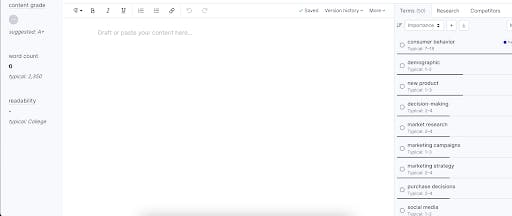 Pull that list of related keywords from the report and aim to incorporate as many of them as possible in your copy — think of it as a kind of 'SEO Shopping List.'
Including related keywords is great for giving your article SEO appeal, but refrain from structuring your article wholesale around them. Remember, the list of the related keywords is drawn from the current top content. Of course, you want to include those topically relevant keywords, but you also want to make sure your article is amply differentiated from existing content.
Something to bear in mind is that even an absolutely perfect A++ ranking on Clearscope is not a guarantee of ranking performance. Nonetheless, it makes for a great foundation, both for SEO and for focusing your approach before you start writing.
Research tips for building knowledge
So you've got your subject in hand. Now it's time to start building up your knowledge around it. As a content marketer by profession, you're likely to have built up a few different research strategies in your career or during your college years. Refreshing your approach to research is a reliable way of making the process more interesting and your final product much stronger.
Go 'Wikifishing'
Wikipedia acquired a bad rep for being prone to misinformation in its early days, and some research professionals will still warn you away from using it. However, the real value of a well-written Wikipedia page is not in the content itself but in the sources the content links to.
Wikifishing is when you go to your subject's Wikipedia page and dive straight into the references. It's easy to find credible primary sources this way, especially on a well-referenced page. Scan individual pages for domain rating, and note whether they're https-certified if you're not sure whether a site's trustworthy.
You can fall down a lot of interesting rabbit holes this way and find all sorts of unexpected new information and angles on a subject.
Solicit credible sources of data
Nothing makes an article more authoritative than good data. Knowing where good data can be found will save you a lot of tiresome cross-referencing.
A few sites known to be bastions of well-collected data include:
Each time you cite one of these sources, link directly to them in your copy. Not only does this increase your trustworthiness, but it also increases your outbound link quality, which will help your article rank well. Take care, however, not to get too laden with outbound links. Having too many, like having too few, can actually hurt your ranking.
Consult competing content
There's no better inspiration for great content than content that already exists. Why? Because every piece of content is an inventory of its own mistakes, shortcomings, and oversights.
Study the competition, even sites/articles you already identified from the content gap. By reading that competing content, you can avoid accidental similarities emerging between existing content and your new work, keeping your structures and style fresh and unique.
And be ruthlessly analytical in determining where the competition falls short. Are the articles too long? Too sparse? Not actionable enough? Poorly crafted? Few outbound links? Latch on to questions that old content suggests but fails to answer and answer them in your work.
Use tools like Heyday
A simple 1,000-word article may require you to consult dozens of sources. A tool that can help you keep your sources in order can be a great help.
Heyday is one such tool. It makes keeping track of your research material easier by giving you handy call-backs to articles and websites you've seen before. It also offers periodic reminders of valuable resources you found earlier in the process.
Research tips for after your article is complete
That's great; your article is finished, and what an article! But we're not done yet. A little bit of subtle aftercare can go a long way to priming your now all-but-complete article for success.
Begin by plugging your content back into the same Clearscope search you ran earlier. Evaluate its score for related keywords, as well as its readability. Pitch any last related keywords into the copy that you can. Articles of intermediate difficulty with A-tier rankings are best set up for high performance.
Finally, jump on Twitter, Facebook, and/or LinkedIn ahead of publishing. Run through your network and topic-relevant hashtags and make a shortlist of prospective re-Tweeters and influencers. One retweet or share to a loyal, engaged audience will give your article a huge boost in clicks. Once you've identified users likely to be interested in your content, remember to @ them when your article goes up.
Research never sleeps
For content marketing, research is not a monolithic process that takes place entirely before you start writing. Good CMs know research begins before your subject is chosen and doesn't stop until the very moment you hit 'Publish.'
While this makes researching for content marketing a more exacting process, it's also a fantastic discipline for creating good research habits overall. This kind of 'live' research process, whereby you continue to refine your research package even as you write, will lead to a more intellectually engaging writing process and a more insight-rich final product.
Ready to step up your research game?
Heyday automatically saves the content you view and resurfaces it within your existing workflows - so you don't need to keep 100+ tabs open! It's like your own personal research assistant.