How to Launch on Product Hunt and win #1 Product of the Month
I've launched multiple products on Product Hunt.
I had never managed to crack the Top 5 products of the day, until we launched Heyday in April 2022.
Our AI-powered research assistant won #1 Product of the Day, #1 Product of the Week, #1 Product of the Month, and was featured in multiple Product Hunt newsletters.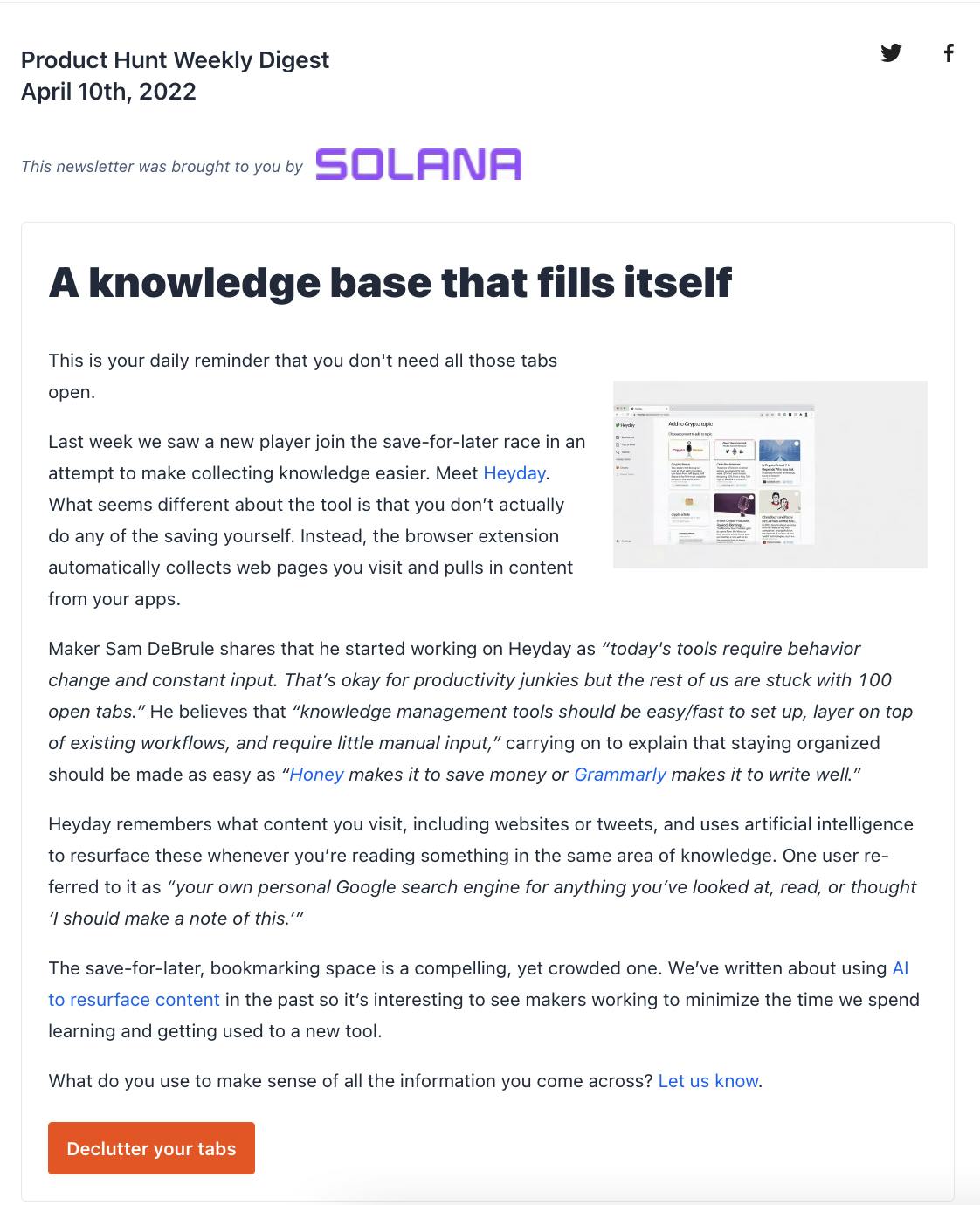 You might feel intimidated if you're preparing to launch your startup on Product Hunt, but have no fear!
After reading this article, you'll know the secret to success on Product Hunt, walk away with a proven launch strategy, see benchmark metrics from our launch, and have an actionable launch checklist that we used to reach the top of Product Hunt's leaderboard.
What is Product Hunt?
Product Hunt is a place where people share and discover new products.
"Makers" of new products launch on Product Hunt because 4 million people interested in new products visit the website every month (source).
When you launch your product, a percentage of that traffic will turn into users of your product. If you achieve #1 Product of the day, you might be included in Product Hunt's newsletter which is read by 420,000 subscribers.
How to launch on Product Hunt
Launch on Product Hunt without advanced planning, and your success will be determined largely by luck.
On any given day, your product competes against dozens of other products for visibility. A handful of them are launched by people who know what it takes to succeed on Product Hunt.
The secret to a successful launch on Product Hunt
If you only remember one thing from this post, remember that not all upvotes are counted equally by Product Hunt's algorithm.
If a Product Hunt visitor likes your product, they "upvote" it. Upvotes determine your position on Product Hunt's homepage.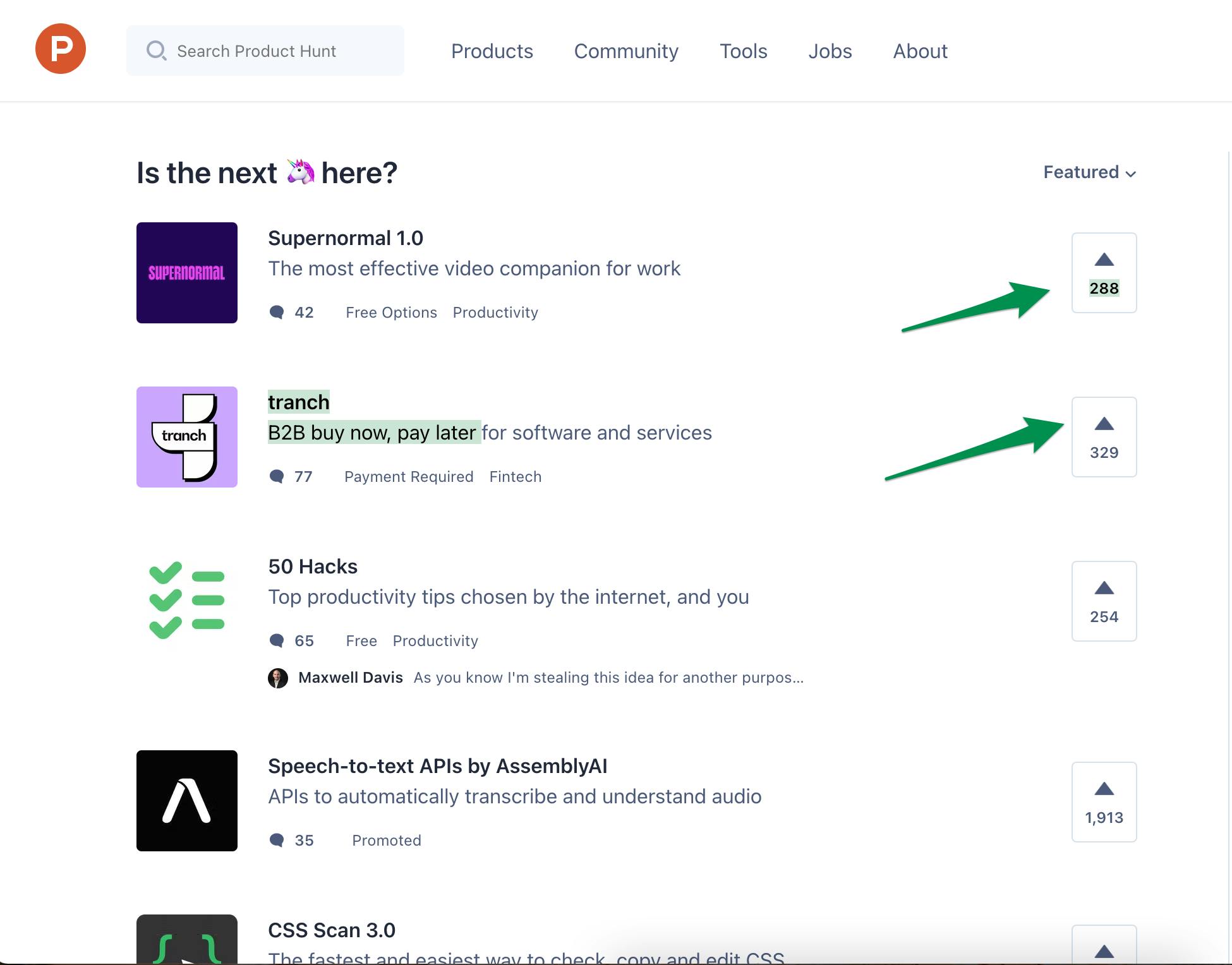 Did you notice anything weird about the picture above?
The second place product has more votes than the first place product. That's because Upvotes from engaged Product Hunt users carry more weight than ones from accounts that are new or that have low activity.
Once we understood this, we built a launch strategy to get upvotes from as many engaged Product Hunt users as possible.
We also knew that we had a lot more to learn. So where did we start?
At the source.
Get advice from past Product of the Day makers
We reached out to our friend Pejman Pour-Moezzi. Pejman is the founder of Reflective, a product that won Product Hunt's #1 Product of the Day award.
His advice can be boiled down to a few key points:
Set a specific goal
Pick the right day of the week
Find a top hunter
Send lots of DMs
Reply to all comments
Set a specific goal
What was our goal?
Win #1 Product of the Day.
We launched Heyday on Product Hunt to build a sense of momentum while we were in the middle of raising our seed round. We through that we could improve our chances of raising if we were able to tell investors, "Heyday won #1 Product of the Day on Product Hunt!"
This goal shaped the rest of our strategy.
If you have a different goal, your strategy might look a bit different.
Pick the right day of the week
The right day depends on your goal.
Tuesday, Wednesday, and Thursday are high traffic, and high competition days on Product Hunt. Product Hunt sees lower traffic on Monday, Friday, Saturday, and Sunday. That means it's easier to make it to the top of the leaderboard.
Our goal was Top Product, so we launched on Monday.
Find a top hunter
It's up for debate whether or not having your product posted by a specific "hunter" (the person who posts your product) will improve your chances of being featured on Product Hunt.
We didn't want to leave anything up to chance. We used Upvote Bell to identify a top hunter. We saw that we were connected to Nick Abouzeid, and we asked Packy McCormick, an investor in Heyday, to introduce us.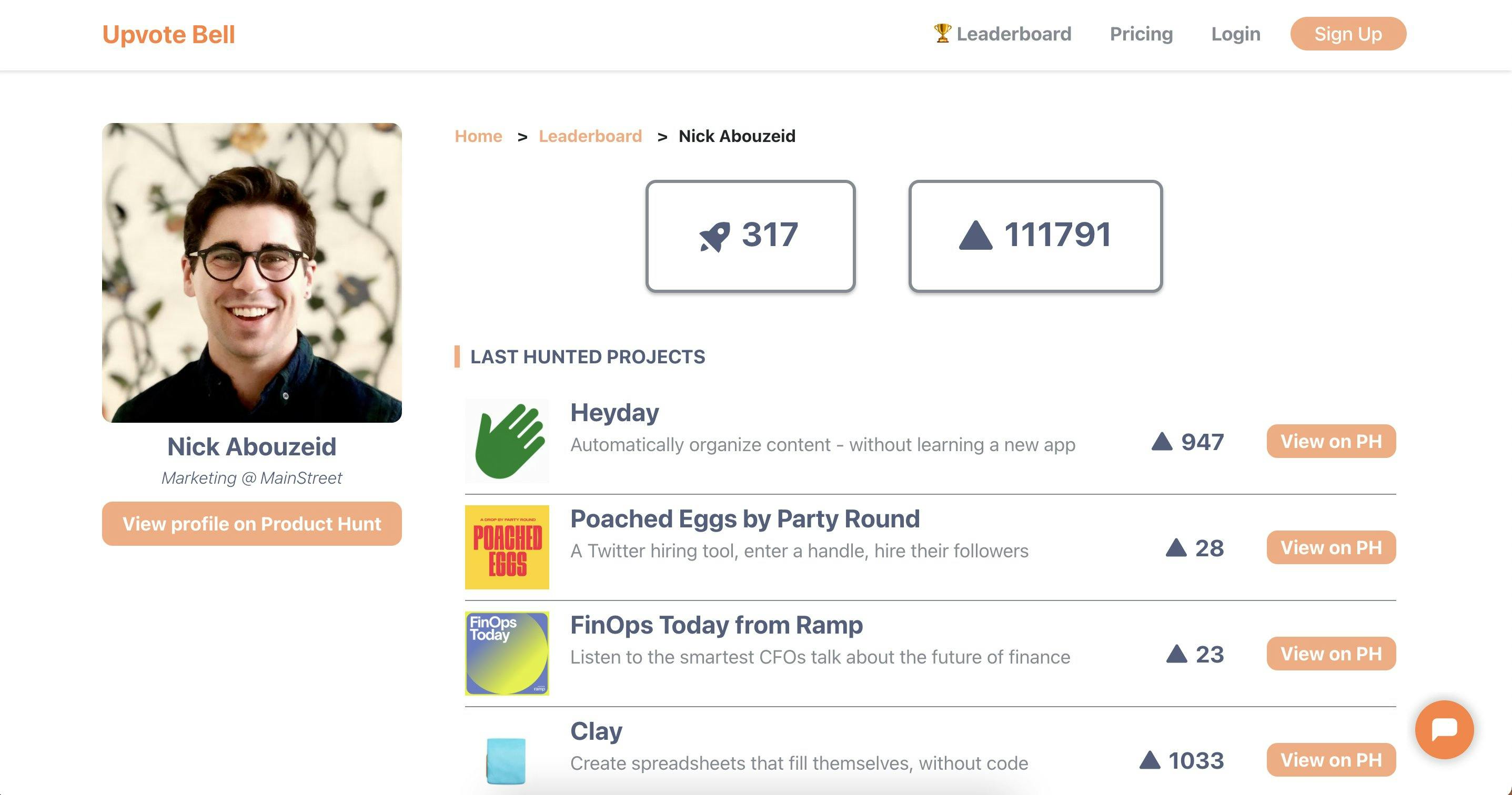 Ask for support from engaged Product Hunt users within your network
Again, upvotes from engaged users are more valuable than ones from new accounts.
We messaged creators of top products, existing Heyday users who are regularly on Product Hunt, and communities filled with Product Hunt users.
Here is the message I sent to the Sacra discord: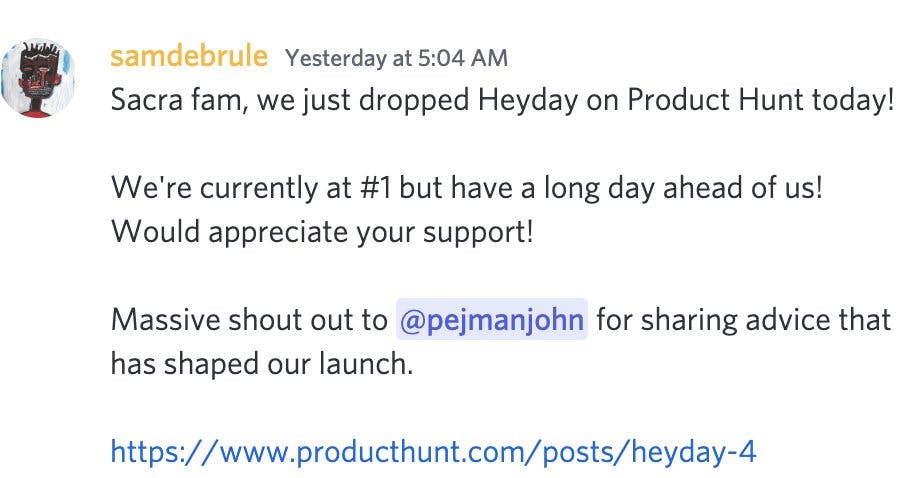 Get within the Top 5 products by AM Pacific Time
Launch your product at 12:01AM PT.
Product Hunt's "day" starts at 12:00AM PT. Maximize the window in which you can receive upvotes by launching close to the start of the day.
Since the majority of Product Hunt traffic goes to products above the fold on the homepage, you want to get there as quickly as possible. My co-founder and I DM'd supporters from 12:01AM until 7AM PT to secure our top spot and get more upvotes.
Ask for Support from your international audience
To maximize early upvotes, ask for support from people who are already awake.
Write your messages ahead of your launch
One of the makers we asked for advice, told us, "launch day is hectic, and anything you can do ahead of time will offer relief."
We scheduled emails to users, drafted texts to friends, and wrote FAQs to respond to Product Hunt comments faster. Here's one of the messages we sent to users: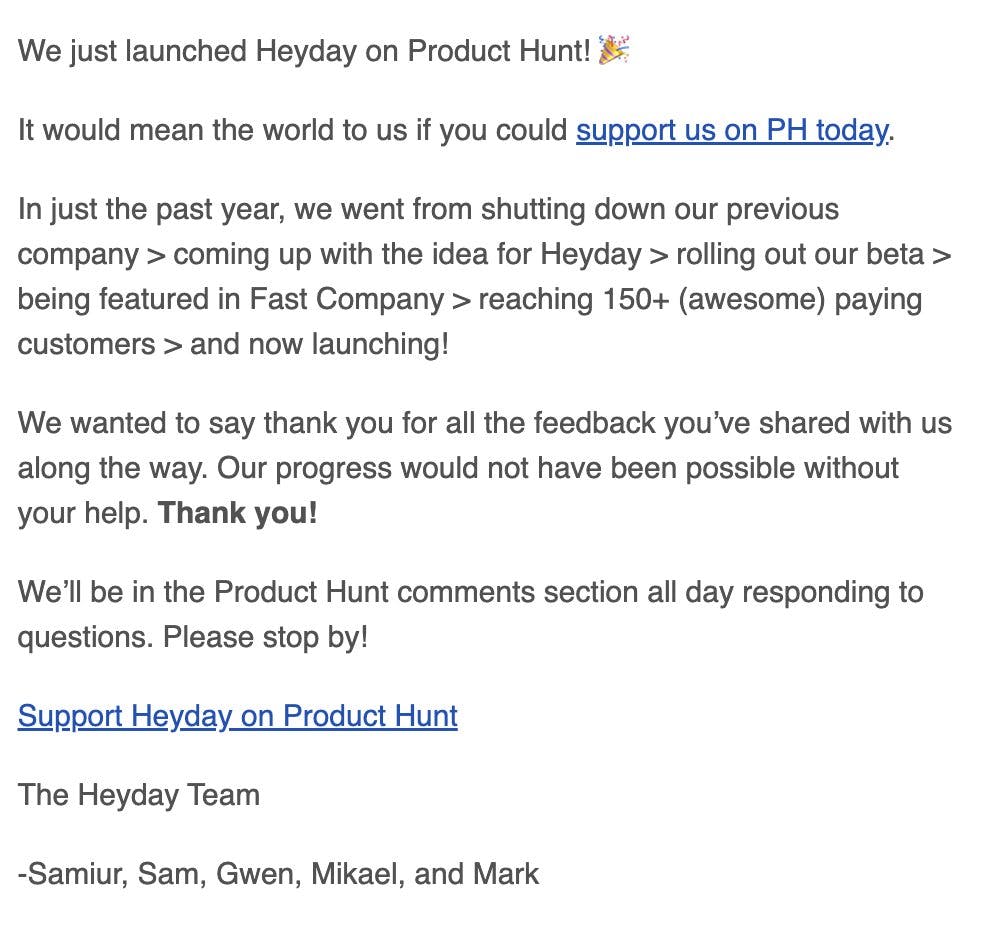 The Product Hunt algorithm doesn't just look at upvotes.
It takes comments into account when it determines where a product sits on the leaderboard too. It also weighs the engagement (and likely velocity) of the comments section.
When my co-founder and I weren't messaging people for support, we replied to comments as quickly as possible.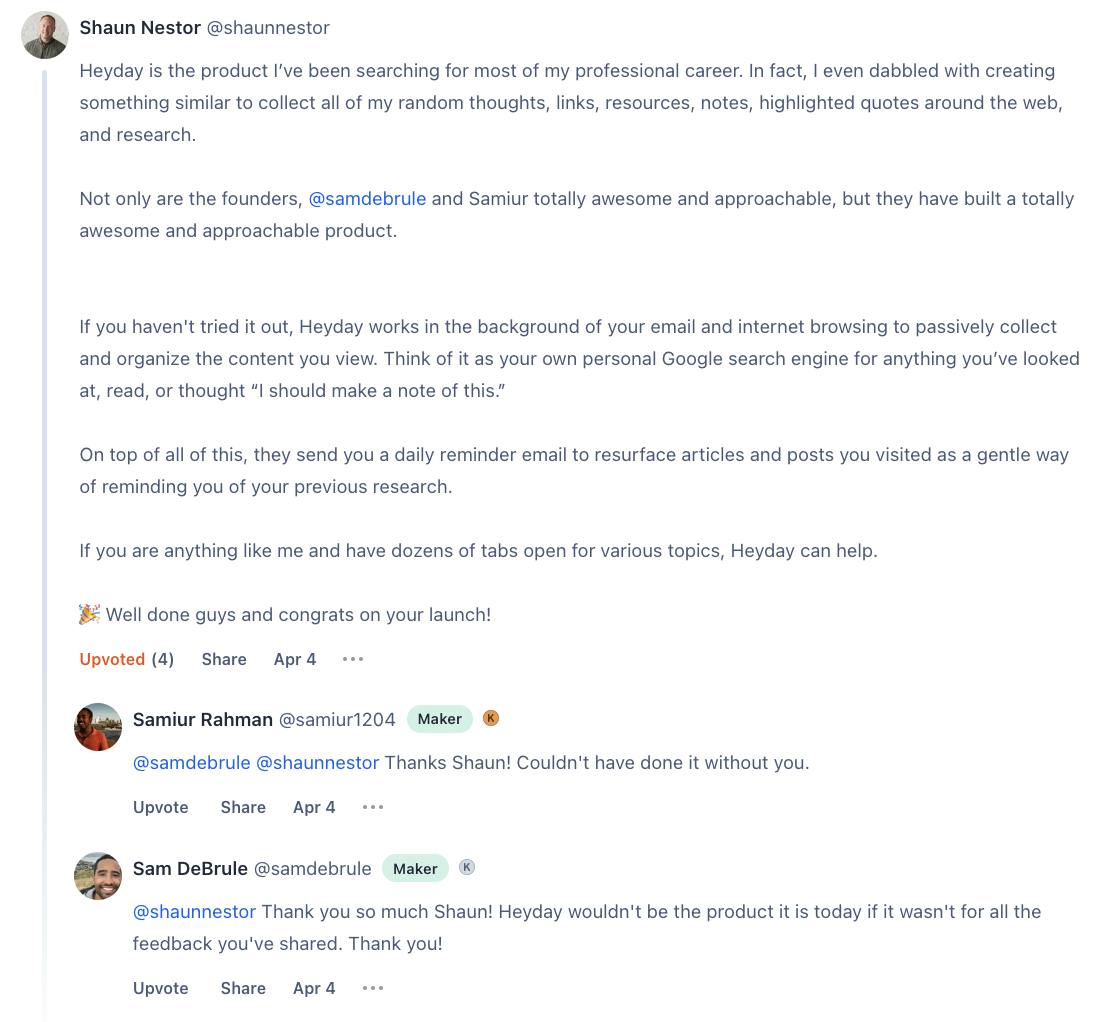 Relate to site visitors personally
The "maker message" is the first message that is seen by people who view your product. It's a great opportunity to connect with potential users. Use it to share your founding story, not a sales pitch. We opened up about the ups and downs during our past four years as startup founders: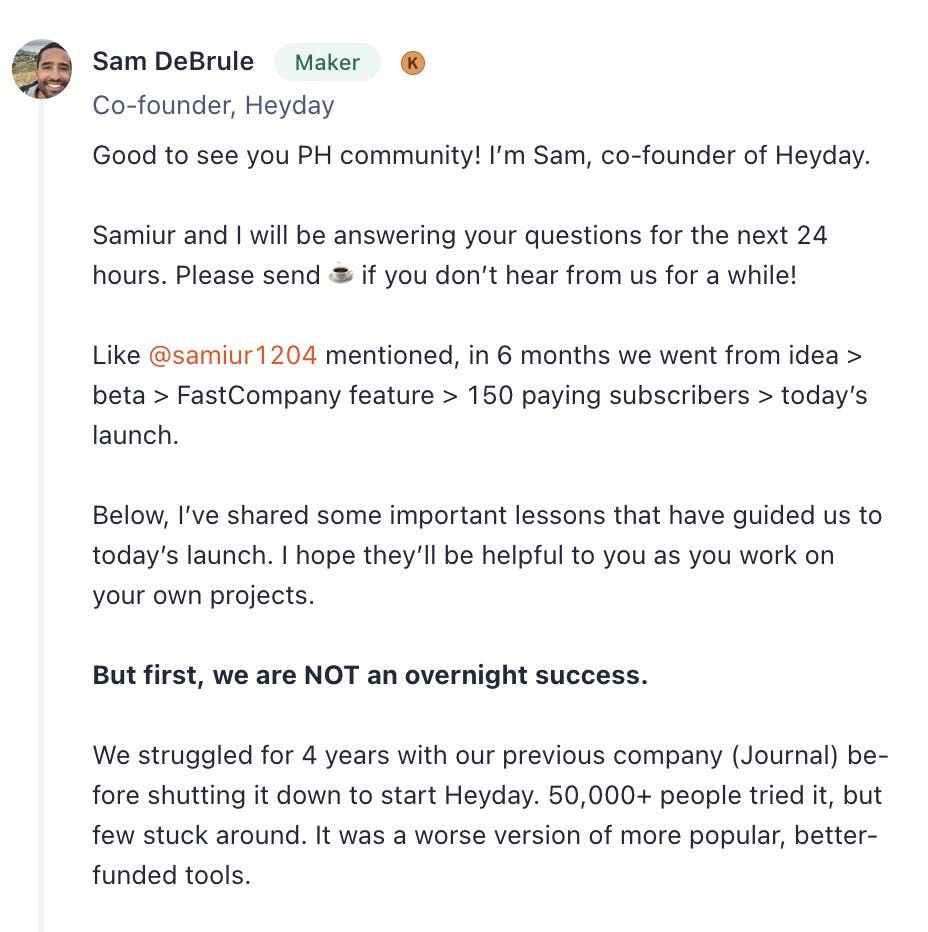 Follow instructions on how to post on Product Hunt
Much has been written about how to create your post on Product Hunt. The most trusted guide we found was written by Product Hunt themselves. Listen to their advice.
Heyday's Product Hunt launch results
We hit our goal of becoming #1 Product of the Day.
We were also fortunate enough to achieve #1 Product of the Week and #1 Product of the Month. While we can't say for certain that it helped us raise our Seed Round, we don't think it hurt.
Here were some of the other metrics we tracked:
Metrics from our launch month
4,160 homepage visitors from Product Hunt
419 trials from Product Hunt
32 paying customers from Product Hunt
$320 MRR added from Product Hunt
Top Product Hunt launches of 2022
Need more inspiration? Here are the most successful Product Hunt launches from 2022:
Product Hunt launch checklist
Feel free to copy and paste the checklist below into a Google Doc. This is the checklist we used to reach the top of the leaderboard (and stay sane on launch day).
Weeks before launch
Set launch goal
Choose launch date
Get advice from the previous product of the day/week/month winners (potential high-impact upvoters)
Upvote and comment on products to make the community familiar with you
Tease your upcoming launch in any existing channel you have (e.g. newsletters, slack communities, personal Twitter, etc.)
Confirm testimonials from people who love your product
Identify who from your user base is an existing Product Hunt user
One week before launch
Create post content
Test how the post will look with Preview Hunt
Days before launch
Draft/schedule messages to send to friends and communities you participate in
Draft maker comment
Add a banner to your marketing site to direct visitors to go and support (idea from Marketing Examples)
Launch day
Post the product at 12:01 am PT
Change your Twitter bio to mention and link to your PH launch
Send DMs and ask for support
Respond to Product Hunt comments
Post in communities
Follow people on PH - they will get a notification and check you/your product out
Write a thread about the story of your launch on Twitter
Ask friends to retweet your thread/link to your Product Hunt post
Visit Product Wars to see how you're trending vs. other products
Day after
Write a thread with takeaways from your launch and point back to your post (especially if you're in contention for the product of the week)
Record testimonials from Product Hunt comments to use in other parts of your marketing efforts
Follow everyone who upvoted on PH (for future launches)
If your launch went well, thank @samdebrule on Twitter (😉)
Additional launch resources
Doing research ahead of your Product Hunt Launch?
Heyday will save you time and and help you retain more of what you learn.