How to Develop Your Vision (Founder's Edition)
As a founder, your vision allows you to inspire your community, motivate your team, and raise funds. Most importantly, it gives you clarity.
And while developing your vision is one of the most critical tasks, it is also one of the most elusive.
I've gone through the process to fine-tune the vision for the littles and I'm excited to share it with you. In this post, I'll cover
6 steps in crafting your vision
5 characteristics of a great vision
4 pitfalls to avoid in setting your vision
Let's dive in! (I also gave a talk about developing a vision at NFT NYC 2022.)
How to craft your vision
Start with a keyword dump
The first thing you'll want to do is note down all the words that are related to your product, service, industry, mission, values, short-term goals, and long-term goals.
Doing this allows you to visualize all the data points, and unload all the craziness happening in your monkey mind. As we stumbled upon new inspiration, realizations, and knowledge, I would keep updating, pivoting, and expanding our vision. 
You'll see the progression as the vision becomes more and more clear: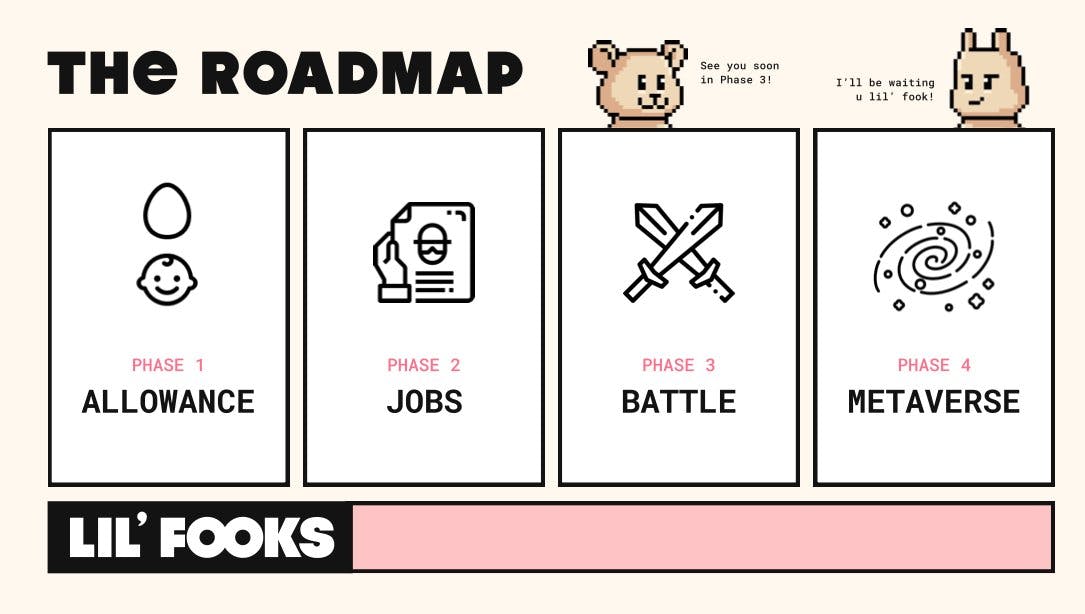 Identify your spark
Don't ignore red flags.
If you don't feel excited about the vision as a founder, no one else will. You must identify the spark that excites you! 
Be hyper-critical and honest. Circle all your sparks. For me, my mission is to put smiles on faces. This has been a common theme in all that I do for the past decade. That's why I'm more excited than ever to continue this mission of mine with the littles.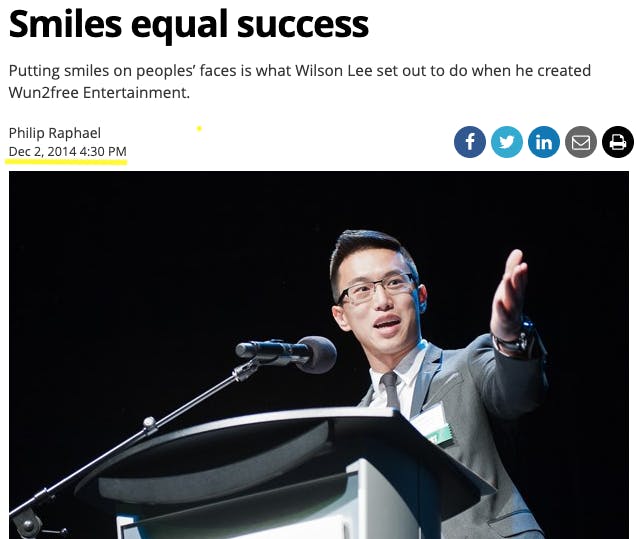 Choose your focus
Once you've gotten honest about what excites you and identified your spark, it's time to narrow your focus. 
We are all faced with two constraints — time and resources.
Select no more than 3 pillars to focus on. Otherwise, you will spread yourself too thin.
Choose pillars that provide synergy with one another for x10 results. For the littles, those pillars are:
Animation. Animation breathes life into our characters and expands our reach to millions of people:
Gaming. Gaming adds another element to our little world serving a different demographic, which again expands our reach to millions of people.
Merch. Merch is what resonates with everyone.
All three stack.
Study your competitors
The next step to building your vision is learning from your market. 
Find out what works and what doesn't work. Read comments and feedback on their initiatives. Just because your competitor is doing something doesn't mean you should copy them. For web3 founders, remember that this is still a very new industry with no proven playbooks – so keep adapting.
I had an aha moment when I saw that Cryptoys, whose focus is toys/gaming/animation, raised a $23M round from Andreessen Horowitz, Tim Draper, Mattel, Animoca, Dapper Labs, and others.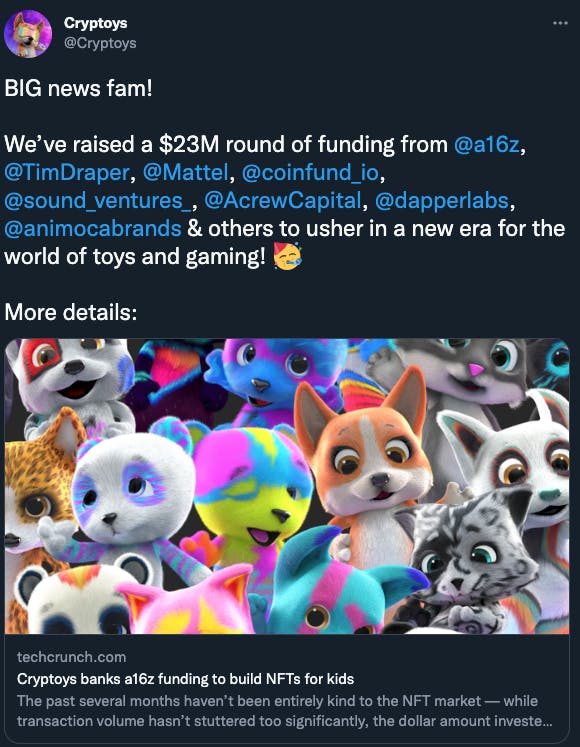 When these titans made an investment in our space, it validated the direction/vision that we have for the littles.
Find your web2 industry
Web3 is a new industry that is evolving at a breakneck pace, but there are proven models outside of web3 that have achieved product market fit. 
Find those web2 industries and see what is proven to work. Use your learnings to expand on your vision. The example that inspired me, Spin Master, a $5B web2 company. They are most notable for their creation, the Paw Patrol Mod in Among Us.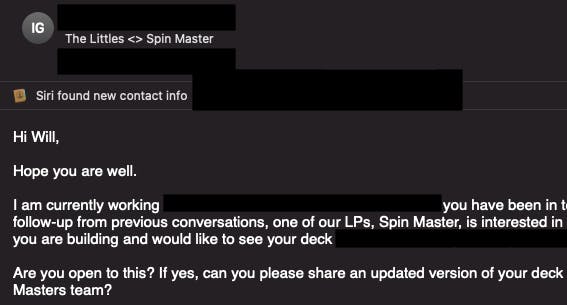 They have 3 pillars of focus - toys, entertainment, and games.
This was all I need to have 120% conviction in my vision to be the Mario of web3 and our 3 pillars of focus.
Seek advisors
Seek those who have been there, and done that for what you'd like to achieve.
You should have different advisors for different pillars. Each advisor brings their respective knowledge and experience and can strengthen your grand vision!
For our Animation pillar, we have the one and only Maria Perez-Brown as an advisor. Koh Kim (ex-google game), Ted Mui (ex-Zynga), Kalvin Wang (ex-club penguin), and @curvethots advise us in our Gaming pillar. Will Weinraub, founder of Cryptoys, and Tom (ex-gm of the Harry Potter franchise) advise us on all things Toys and world-building. 
The characteristics of a great vision
Big huge gigantic problems 
The effort, resources, and risk in solving a small problem are often relatively the same as solving a big problem. So, don't shy away from big problems. The bigger the problem, the bigger the potential for rewards. Think big!
5-10 year time frame
You can zoom out and think big when the time horizon is long enough. It also helps you reframe your mind – allowing you to dare to dream.
Grade 5 language
If people don't get it, they leave. Make it so they get it right away. The faster they get it, the better they will understand it, and the more likely they are to share it. Avoid jargon so that more people can share it.
Achievable 
Your vision must be believable and attainable. You want it to be challenging, but not impossible. If the vision is too far off, people can't rally behind it.
Inspiring 
Your why and passion are crucial to making your vision effective. This can't be faked. You must be authentic. Authenticity is what moves people.
the little's vision: Be Mario of web3
It checks out on our five characteristics:
Big enough of a vision to excite people 
Simple enough for people to share with others 
Given enough time, it's achievable when web3 becomes mainstream
Most importantly, it's aligned with my why, my 3-year-old daughter, Jordyn
Pitfalls to avoid in setting your vision
And to wrap things up, I have a few final learnings to share on what to avoid when you're building your vision.
Avoid setting a low profit potential
Aim big so that whatever you work on is worthy of the effort. The higher your profit potential, the higher your expected value since (profit potential) x (% of outcome) = (expected value).
Avoid calculating probability 
A lot of people wave off an idea/vision just because the (% of outcome) is low. If the potential is big enough, even at low probability, it is still worth a shot.
Avoid one time and done. 
You shouldn't always change your vision.
However, it should be something often refined – especially when your knowledge, expertise, and insights are expanding every day. You would be foolish to not pivot when you're presented with new information.
Avoid finding the hows
Your vision is about finding where you want to go. 
Focusing on the hows could be paralyzing because often it's a puzzle yet to be solved. The how is what you rely on your team of talents and advisors for, so don't get tripped up.
Build with strength, venture with clarity, and rally in confidence! 
Coming up with a vision is not something that can be done in a span of hours. Sometimes it can take days, weeks, or even months. Oftentimes, it requires new insights, talking to lots of people, studying different industries, and allowing all your data points to settle before you can draw the right connections to come up with your vision.
This post is an adapted and expanded version of my Tweet thread.
Take your vision to the next level
Many entrepreneurs, like Wil, are surprisingly open about lessons they learn while building their brands. Check out our "build in public" post for more actionable lessons, directly from founders, on how to develop your vision.