The DTC Marketing Strategy We Used to Grow Simple Modern from 0 to 15 Million Units
I give every new hire at Simple Modern the Amazon & DTC marketing strategy we used to go from 0 to 15 million units in 7 years. 
I'm sharing what I tell them with you, as our strategy is one that anyone building a DTC brand can learn from. 
Our eCommerce foundation
Our digital sales expertise came from working together for 6 years. We ran a variety of eCommerce platforms. QuiBids was the most notable, it had an epic run. We learned how to grow LTVs, write algorithms, run e-mail, and more.
The dark side of digital ads
From 2010 to 2012, QuiBids achieved amazing growth thanks to digital ads. However, ads got more expensive. New competition, market saturation, and early domination by Amazon were challenges.
Lack of LTV
Our ads strength turned into a weakness. Even worse, customer retention was challenging. Users only return in an auction model if they win, which couldn't happen enough. This experience cemented the importance of sustainable customer acquisition and retention.
Enter Simple Modern
Amazon offers a fantastic opportunity – to acquire customers for free.
From our previous experience, we knew a few factors would be key to our success:
Acquisition: Listings ranking top of organic search.
Retention: Product so good, customers search for YOUR brand.
We launched in 2015 with a channel strategy to optimize for Amazon, not a specific product.
Amazon-first strategy
Product strategy
We tested several products, including baking mats, tea infusers, and a water bottle. With limited bootstrapped capital, we'd rather be great at one product than good at several. The water bottle worked best. Next question, how do we win the water bottle category?
Differentiating
We theorized that insulated drinkware isn't that dissimilar to a watch or shoes. Customers care how it looks because they take it with them in public. If true, we were set up for success because digital shelves allow endless options.
It turns out we were right.
Ornamentations advantage
We maxed out at 45 color choices. Each additional color choice increased the chances of getting a conversion. It also created more ways to find our listing.
Best-In-Class offers
Every purchase order cycle we cut the bottom 15% of colors. These colors were replaced with newly projected top-10 colors. After a few years of this process, you get the best color offering. Side note: Our color testing data was a huge advantage for us selling in-store.
Brand competition:
Brands like Hydro Flask and Yeti are optimized for in-store. Physical shelves limit space for colors. Incentives are staying in stock. They're a mile deep in inventory, and an inch wide in colors.
We were an inch deep in inventory, and a mile wide in colors.
Manufacturer competition - Price
Manufacturers sell on Amazon with the advantage of offering the lowest price. We strategically limit this advantage by taking lower margins. Customers will pay a few more dollars for a high-quality brand.
Manufacturer competition - Inventory 
Manufacturers weren't incentivized to compete with us on ornamentation. They'd rather invest in their core business: manufacturing. They don't want to hold a lot of inventory.
Capital investment became a moat
Our willingness to pour capital into 100+ SKUs for 1 listing became a moat. To compete with us, you had to hold millions of dollars in inventory. This created a barrier and reduced competition.
Amazon advantages summary
Expensive brands couldn't compete with our color selection, in quantity or quality. Low-price brands couldn't compete with our inventory investment and branding.
We iterated into higher product quality than any competitor. It wasn't a fair fight.
Reducing offerings with scale:
Interestingly, our business scaling necessitated reducing color offers. Instead of 45 colors, we have settled on around 30 colors. Staying in stock in a top 5 SKU is far more important than carrying an additional 15 colors.
Prioritizing DTC
I've shared a bit on our Amazon-first strategy, and now it's time for our DTC strategy.
DTC history:
Customer acquisition for Simple Modern was driven by mass retail inserts. This strategy didn't work. 
Customers with their first purchase at a steep discount aren't valuable – especially if you're looking for customers with a willingness to pay a premium for a high-quality brand like ours.
The pandemic was the spark we needed for DTC.
DTC Strategy
Unlike traditional DTC brands, our website is built to serve returning customers. 
We leverage Amazon, Target, and Walmart for customer acquisition and lean into the unique benefits enabled by DTC with personalization, bundling and limited-time offers.
This playbook has led to great LTVs for us.
Layering on digital ads to DTC:
Recently for the 1st time, Facebook and Google Shopping started working for us.
Drivers:
Bundles and higher retail items like kids' backpacks pushing AOV up
New ornamentations on bestselling product
Andrew Faris has been key in this breakthrough.
DTC % of Amazon
DTC has grown from 2% of our Amazon revenue to 11% in 2 years. That's with significant Amazon growth. My goal is for DTC to be 25%+ of Amazon in the next 2 years. This is one of my favorite charts: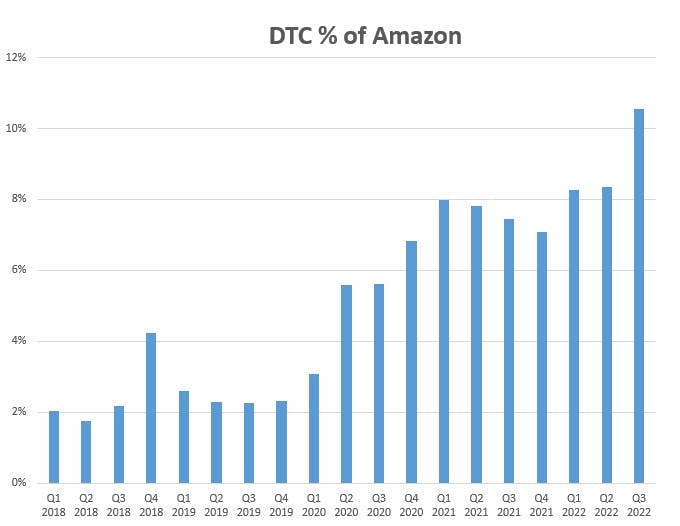 Embracing Our Demographic:
Since we differentiate on style, our demographic makes sense – women, ages 21-45.
This demographic does a lot of shopping for their family. This has led to success in multiple kids' categories. Some customers have even described us as the Yeti for women.
Small improvements that compound for big results
Our learnings from building QuiBids and other eCommerce platforms, combined with small daily improvements compounding have led to the results that we're achieving today. Wherever you are along your journey, remember that brand building is a long game. Thanks for investing the time in reading this!
This post is an adapted and expanded version of my Tweet thread.
Take your brand to the next level
Many entrepreneurs, like Bryan, are surprisingly open about lessons they learn while building their brands. Check out our "build in public" post for more actionable lessons, directly from founders, on how to build your brand.